EV & Hybrid Chevrolet Vehicles

Chevrolet EVs and Hybrids at Victory Chevrolet of Smithville
As buyers move to vehicles that have less of an impact on the environment, manufacturers are meeting the demand for alternative fuel vehicles. Hybrids and electric models are at the top of that list. While both of these types of vehicles are popular and provide advantages, they are distinctly different.
---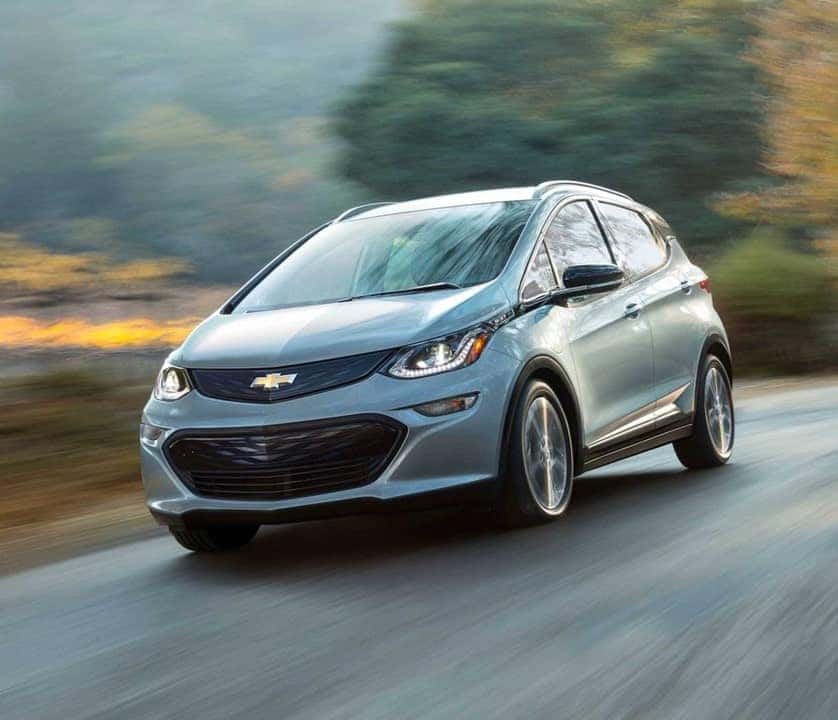 Hybrid Models
Hybrid vehicles still use a gasoline engine for power. However, they also include an electric motor to conserve energy. These models utilize regenerative braking to conserve fuel by storing energy, which is released when braking for use when accelerating. You get more power without using more gasoline.
A hybrid model is a great choice for first-time buyers of alternative vehicles. They are affordable, often having the same price as gasoline models. They can be the sole transportation since gasoline powers the vehicle until you need to fill up again at a gas station.
The only negative about these models is that they still leave a carbon footprint since gasoline is necessary. However, they are efficient, which makes them a great buy as you transition toward electric models.
Electric Vehicles
If you want to get completely away from gasoline, an electric vehicle is a great choice. There are no gas tanks, no engines, spark plugs, oil filters, or many other parts. The result is less maintenance, which saves on your cost of ownership.
Another thing missing with EV models is the noise of an engine. Some models are so quiet, manufacturers had to add noise when going slower. While EV models are priced higher than gasoline vehicles, they are becoming more affordable. The range for travel is also improving as more charging stations are built along highways.
---
Chevrolet Electric Vehicles
Consider the available alternative fuel vehicles from Chevy as you look for your next model. Move into the future with a vehicle made for your lifestyle.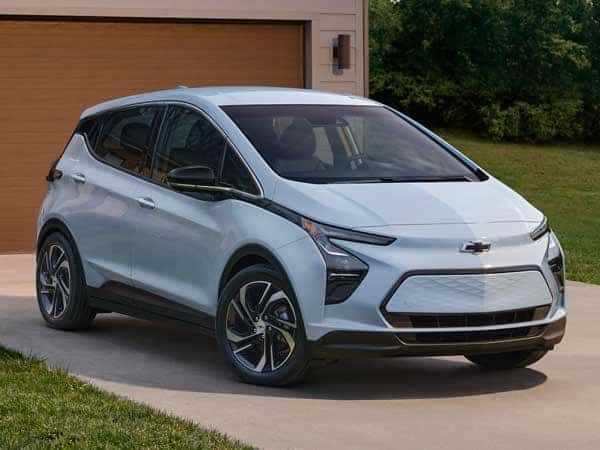 Chevrolet Bolt EV
Enjoy agile performance as you weave your way through city traffic or cruise out on the highway in the Bolt EV. This model is a compact hatchback with room for five. Folding rear seats allow you to carry both passengers and cargo in a redesigned, modern cabin. Keep going up to 259 miles on a single charge.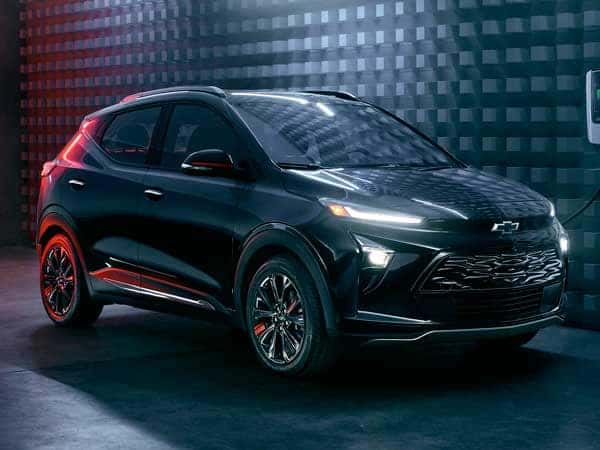 Chevrolet Bolt EUV
Partner with the Bolt EUV for a relaxing drive. This model includes Super Cruise, which takes over the driving when you're traveling down the 200,000 miles of compatible roads. Check the driver information center for historical data about the vehicle to know the range based on battery charge. Enjoy an exciting ride when you switch into sport mode. Keep traveling up to 247 miles and up to 200 horsepower for efficient performance that is also fun. Comfort meets convenience with heated front seats and other amenities.
---
Upcoming Chevrolet Electric Vehicles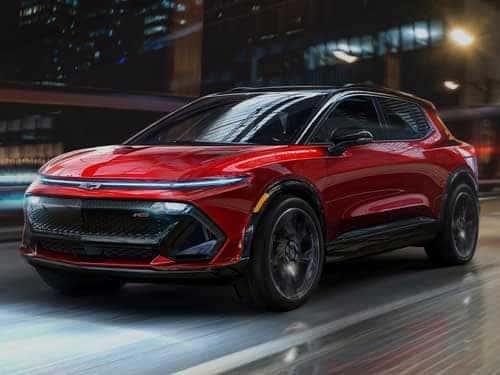 Equinox EV
This SUV is designed for your everyday commutes with an estimated range of 300 miles on a single charge. If you take this SUV to a DC fast charging station, you can charge up to 70 miles of range in just ten minutes. Equinox EV provides an exciting drive with walk-up lighting on the exterior and ambient lighting inside. Access information from the large 17-inch display while heated front seats and heated steering wheel keep you cozy in chilly weather. Practical performance includes up to 1500 pounds for towing with 290 horsepower.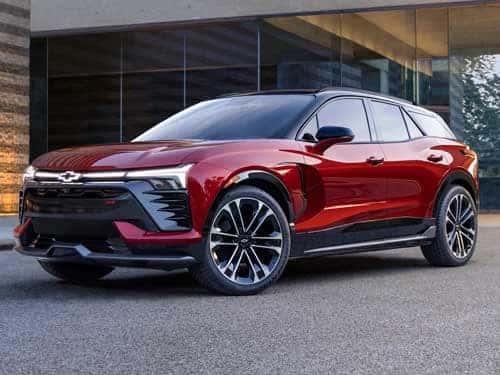 Blazer EV
A recognizable icon has now become electrified with the Chevy Blazer EV. This SUV has an estimated 320 miles on a single charge and can go from zero to 60 mph in less than four seconds. Sporty lines and bold colors command attention for the Blazer EV while the performance seating and flat-bottom steering wheel inspire a racing feel. Choose between front-wheel, rear-wheel, and all-wheel drive with 557 horses powering your way. Technology enhances the drive with an 11-inch driver information screen and a 17.7-inch display screen. Be on your way with the hands-free start that allows you to tap the brake to get started. The Blazer EV takes charge of the road with Super Cruise, which provides hands-free driving on 400,000 miles of roads in the US and Canada.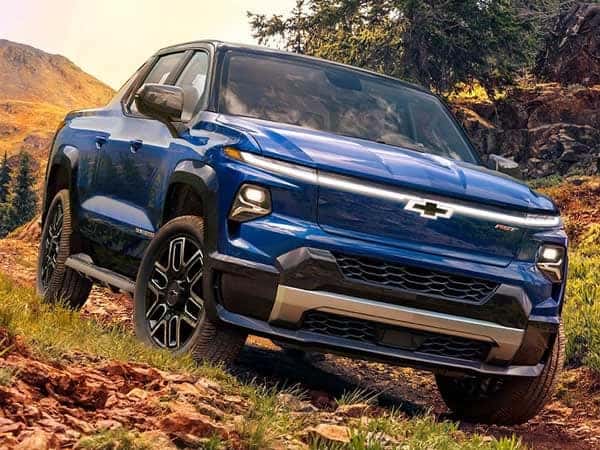 Silverado EV
The Chevy Silverado is a new kind of pickup truck. As the first all-electric truck model in the lineup, this pickup can take you up to 400 miles on a single charge. It also provides up to 754 horsepower and 785 lb.-ft of torque with a maximum towing capacity of 10,000 pounds. Go from zero to 60 mph in just 4.5 seconds. With up to 14 camera views, towing is a lot easier on the highways and backroads. A Multi-Flex Midgate allows you to store longer items in the truck bed, fitting in objects more than ten feet long. Easily access your bed with the full-width step. The Multi-Flex Tailgate also provides a work surface for your laptop or other items.
Get to know any of these alternative fuel models when you visit Victory Chevrolet of Smithville. Stop in today for a test drive as you learn more about alternative fuel models and how they fit into your world.