Service Benefits

The Benefits of Servicing with Victory Chevrolet of Smithville
Your vehicle is an investment, and you want your investment to last a long time. To get the most out of your vehicle, you need to keep it properly maintained. If you live in or near Smithville, Independence, or Kansas City, you can bring your vehicle to Victory Chevrolet of Smithville for all your maintenance needs. Our service center at Victory Chevrolet of Smithville is a full-service automotive center. We can handle anything from prevention to major repairs. We offer competitive prices on regular vehicular maintenance, like oil changes, brake maintenance/repairs, and tire maintenance and repair.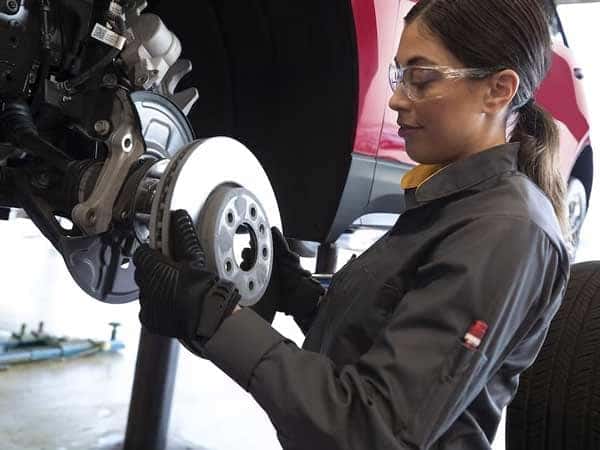 The Benefits of Routine Maintenance
The easiest way to prevent future repairs on your vehicle is to keep up with routine maintenance. Services like regular oil changes, tire rotations, fluid flushes, and air filter replacements all contribute to lengthening the life of your vehicle. Routine car maintenance keeps your car healthy, keeps you safe on the road, and also:
Improves fuel efficiency
Increases your car's value
Saves you time and money
You Can Benefit from Our Service Offers
While some vehicle services can certainly be costly, there is a great way to save by taking advantage of Victory Chevrolet of Smithville's offers on select services and parts. We offer a rotating menu of options to help you save on select vehicle parts and components, services offered, and installation costs to make extending the life of your vehicle even easier. Our service offers change often but may involve:
Wiper blades
Battery cost or installation
Air and Oil filters
Oil Changes
Brake Parts and Brake Replacement
---
Learn More About Services We Offer
---
The Benefits of Maintaining Your Vehicle
Whether you buy a new or used vehicle, regular maintenance is essential to helping your vehicle stay safe on the road and extending its overall life. Even after just the first few thousand miles, your vehicle may not turn as easily as it once did, or you could even be experiencing minor vibrations or other issues relating to normal wear and tear. It's important to stay up to date on repairs, as letting parts and components fall into disarray can cause major issues for your vehicle, and even cause safety issues while you are driving. Keep up with oil changes to keep everything in your engine flowing smoothly and prevent build-up and debris. Keeping an eye on your tires is also important, as uneven tread, incorrectly inflated tires, or worn down tires can be dangerous on the road.
The Benefits of Tire Maintenance
You have a lot riding on your tires because they are the only part of your vehicle that contacts the road. We have certified tire experts that will handle all your tire needs. They will look at your tires for signs of wear and check your tire pressure. If you need new tires, our experts will help you find the right set for your vehicle, and they will mount and balance them. They can even align your tires if needed to ensure that your new tires are wearing correctly so you have a smooth ride.
Why You Shouldn't Skip Oil Changes
Oil lubricates your engine, ensures that certain moving parts in your engine keep moving properly, and extends the life of those parts. It also moves foreign particles through your engine, where they are trapped in your oil filter. This circulation also helps keep your engine cool. Your owner's manual provides manufacturer recommendations for proper frequency for oil changes and other maintenance time frames.
What You Get From a Multi-Point Inspection
Have your vehicle inspected to determine if there are service needs beyond regular maintenance. With the multi-point inspection, our technicians will assess how your vehicle is functioning. They will determine if any systems need maintenance or repair, so you are safe when you drive.
Brake Repair Keeps You Safe
Your brakes are perhaps the most important system on your vehicle because they provide the stopping power you need to avoid accidents and collisions. If your vehicle is making strange noises when you are trying to slow down or stop, there may be a problem with the brakes. Our service technicians will inspect your brakes and make any repairs necessary to keep you safe.
Don't Let Battery Trouble Stop You
Your battery powers all the systems in your vehicle and enables the spark your vehicle needs to start. It also supplies power to accessories in your vehicle when your engine is not running. The extreme heat of summer and cold winter can impact the function of your battery, so it's essential to get it checked regularly to avoid being stranded.
Choose Victory Chevrolet for Service
The Service Center at Victory Chevrolet of Smithville is ready for you and your vehicle. Our team of technicians is ready to handle everything from routine maintenance to major repairs or rebuilds. We also offer a full parts department and can help you order what you need to get the job done. We also have a collision body shop and a tire center that can match great tires to your vehicle for every season.
You can schedule service online or give us a call to set up an appointment. We provide a comfortable waiting area for you to relax while we service your vehicle. Let Victory Chevrolet of Smithville take care of your vehicle and keep it in prime condition with our services.